Published on:
Aug 04 2017
at
10:31 am
|
Nnamdi
[ 28693 ]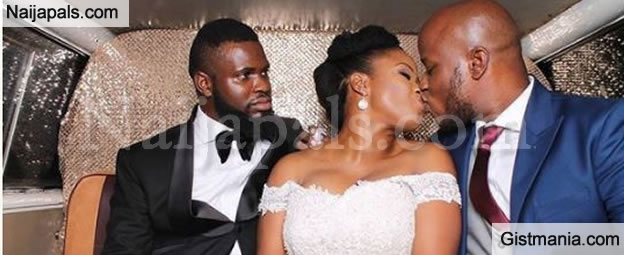 This wedding photo has got online users confused
as to whom the groom is. A man who sat beside
the couple looked lustfully as the love birds
expressed affection for each other.
It is not clear if
the picture was staged to create a buzz online or
the seeming best man was unconsciously caught in
the act.
The viral photo has however generated a lot of
hilarious reactions. See some of them below:
Post-reply on: Aug 16 2018 at 11:03 pm | anonymous
Adam Back developed hashcash, a proof-of-work scheme instead of spam control. The primary proposals with a view distributed digital shortage based cryptocurrencies were Wei Dai's b-money] and Mark Szabo's morsel gold.]] Hal Finney developed reusable test of get ready (RPOW) using hashcash as its resist of handiwork algorithm.]

In the bit gold proposition which proposed a collectible customer base based system on the side of plateforme bitcoin inflation dominate, Nab Szabo also investigated some additional enabling aspects including a Byzantine fault-tolerant asset registry to store and transfer the chained proof-of-work solutions.]
Post-reply on: Oct 13 2018 at 06:08 pm | anonymous
Hello, Downloads music club Djs Electronic/Trance/Dance,
mp3 private server. http://mp3dj.eu/ListFTP/

Best Regards,
Anthony
Post-reply on: Nov 10 2018 at 03:03 pm | anonymous
This to inform the general public that individuals can order Dan-gote3xCement directly from the factory at a promo price of 1300 Naira per bag and Rice for 9,000 naira per bag. Transportation and offloading is 300 Naira,minimum for purchase is from 100 bags and above. kindly contact marketing manager Mrs Aishat Ibrahim 08146766752 or Alhaji Umar sani ON 0 8 0 3 0 7 5 8 3 9 7 for booking and delivery. Note delivery takes two days and it's nationwide.When Strength matters,Choose 3X.PLEASE TELL OTHERS ABOUT THIS WINDOW OF OPPORTUNITY.